Crystal Grid Affirmation Frames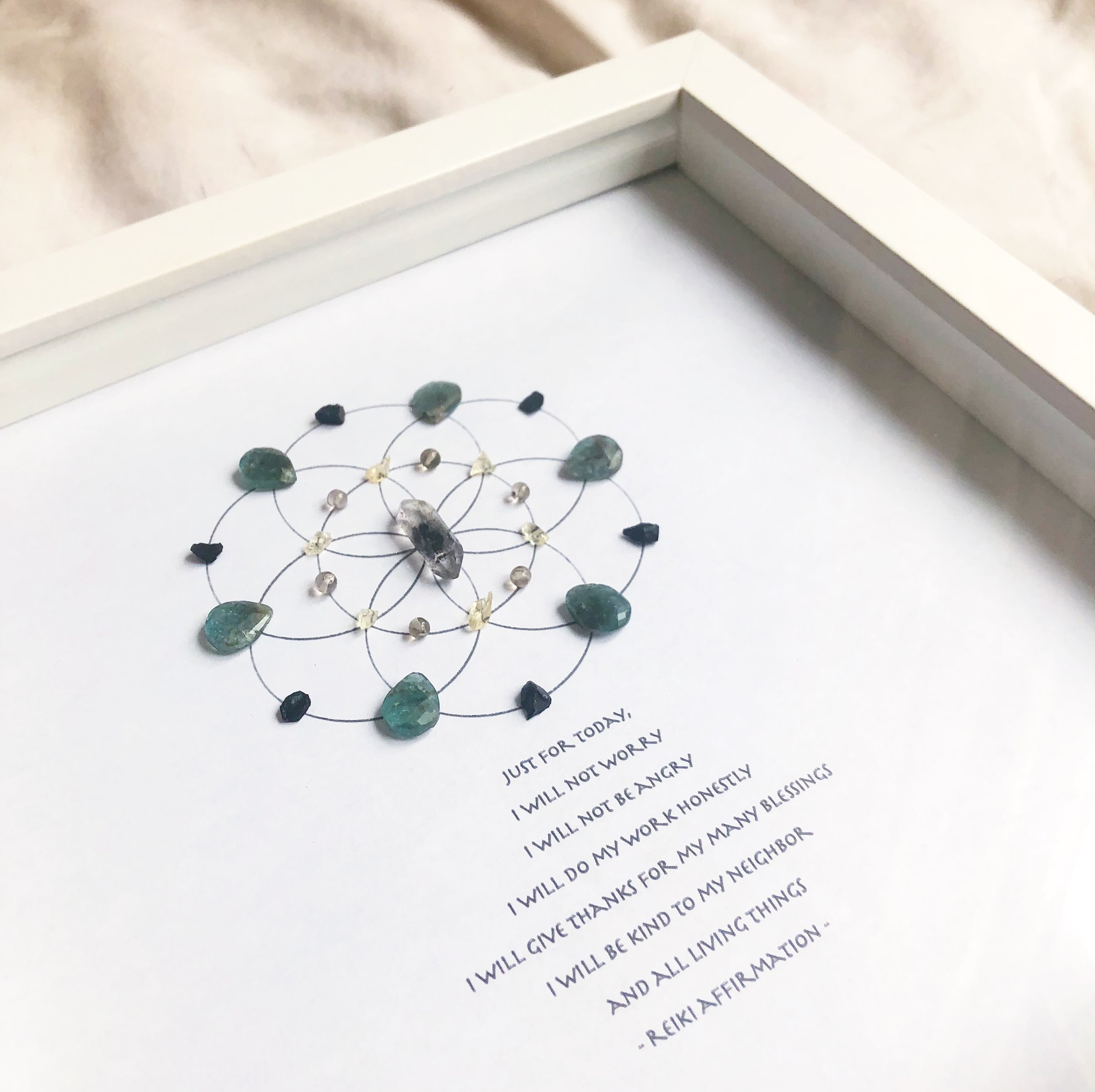 Crystal Grid Affirmation Frames
These crystal grids help support what you are desiring to manifest in your current journey. They are used to amplify your intentions with the use of affirmations, sacred geometry & crystal energy. Crystals are carefully selected to help embrace the intention and affirmation behind each grid.
Reiki Grid: Double Terminated Tibetan Quartz, Citrine, Smokey Quartz, Kyanite & Black Tourmaline. Whether its a gift for someone you love or a self-love gift, these stones can be beneficial for anyone. It is rooted in mindfulness, focused in positivity and inspire living a wholesome life. For a Reiki Facilitator, it can help enhance psychic gifts, offer protection and grounding along with attracting prosperity. For someone who simply resonates with the Reiki Affirmation, it can help create inner peace and assist in mindful positive living.
Grounding Grid: Double Terminated Tibetan Quartz, Magnesite, Pyrite, Hematite, Garnet, Black Tourmaline. These stones help you stay in your truth, focused and centered in goals. Keeps you grounded, well connected to the earth. Dispels any fears/worries about the future and instead helps push you to your potential with strength.
Abundance Grid: Clear Quartz, Citrine, Rose Quartz, Smokey. These stones embrace doing work you love. The kind of work that not only brings prosperity but enjoyment. Carries grounding energies to help keep you centered and energies of will power. Meant to bring in new relationships and clients. Clear Quartz amplifies surrounding stones energies and holds ones intention with clarity.
Each grid is held together in a white box frame with glass. Stands on its own or can be hung. Intuitively crafted by me with lots of love!
Dimensions: 8.5 L x 1 W x 8.5 H
WHAT IS A CRYSTAL GRID?
It is a pattern, created using multiple crystals, that is designed to amplify your intention. The crystals used in the grid are not random but are carefully chosen to create a harmonic relationship between the energies, shapes and colors of each crystal.
Crystal grids can be designed and used for virtually any purpose. When the crystals are arranged properly, their energies are combined, amplified, and supported. Therefore your intention and specific needs can become focused and expands.
WHAT IS SACRED GEOMETRY?
The universe is infinitely complex and exceedingly simple at the same time. Everything in existence is composed of energy and matter that is built on a few fundamental design elements. There are several basic shapes and patterns of life that repeat in a seemingly endless combination of circles, squares and triangles that produce spheres, cubes, tetrahedrons and other 3-D forms. These patterns can be found on scales from molecular lattices to celestial galaxies.
WHY WOULD I NEED TO USE MULTIPLE CRYSTALS? CAN'T I JUST USE ONE AT A TIME?
Of course there are times when you could just use one crystal, and a grid isn't necessary. However, there are other times when you need more and you would want to construct a crystal grid. Grids offer a different type of energy that cannot be found in a single crystal. A grid is especially useful for when your intention needs a lot of power behind it in order to attract it to you.